Sharing is caring
View website
Avgi
Avgi is a historical left-wing daily newspaper in Greece. It was first published in 1952. Manolis Glezos, a Greek politician and folk hero, best known for his participation in World War II resistance, was for years its managing editor.
| | |
| --- | --- |
| Release date | |
| Client | Avgi |
| Sector | News |
| | |
| --- | --- |
| UI Design / UX | Despina Alafouzou |
| Front-end Development | Irene Paliogianni, Aris Vomviras |
| Back-end Development | Thanos Poulitsas, Sofia Tsimtsiou |
| Account Management | Dioni Tegou |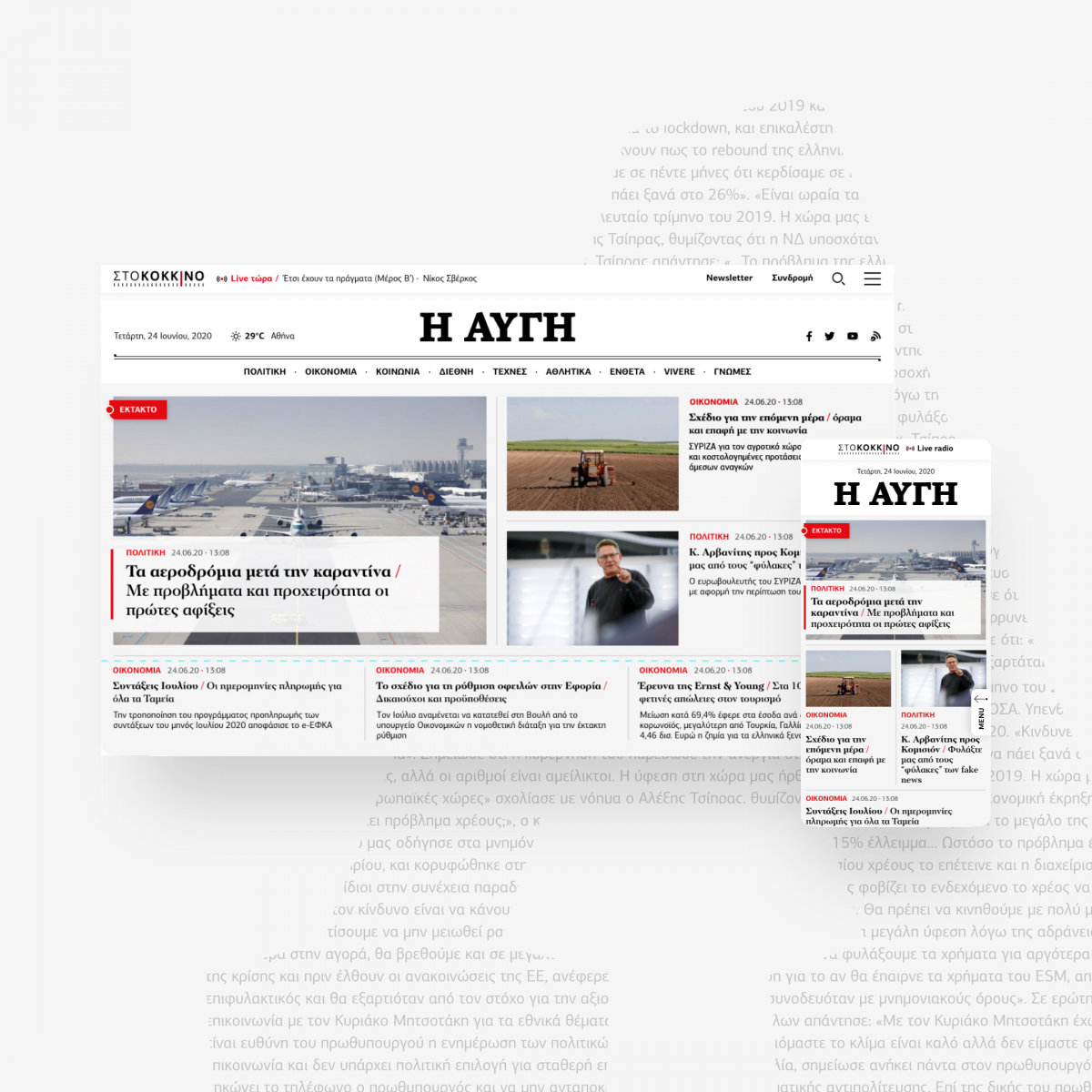 Typography
TYPE YOUR TEXT
PF Centro Sans Pro
PF Regal Text Pro
Color Palette
HOVER TO EXPLORE ALL COLORS
SWIPE TO EXPLORE ALL COLORS
Our fingerprint
Our ongoing goal is to refurbish its website for all devices and enhance the user experience from all traffic sources (organic, direct, social media). What is also new is the incorporation of the radio station Sto-kokkino and the new Gallery section with various multimedia material such as podcasts, documentaries, e-books, web tv, etc.
We redesigned and redeveloped its news portal maintaining the look and feel of a traditional yet modernized newspaper, while at the same time introducing the most modern web practices. The main aesthetic challenge was to create a combination of a clear and user friendly environment, with easy navigation and access to its content. For the editors, we offered a much easier content management system, while serving a blazing fast and SEO friendly end result for all users.