Sharing is caring
View website
Imerisia
Imerisia was one of the most reliable nationwide financial newspapers in Greece, first published in 1947. Its publication as a standalone printed version stopped at 2017 and continued as a Ethnos' add-on, to finally end its paper journey in 2020.
| | |
| --- | --- |
| Release date | |
| Client | Dimera |
| Sector | News |
| | |
| --- | --- |
| UX | Despina Alafouzou, Irene Paliogianni |
| UI Design | Despina Alafouzou |
| Front-end Development | Irene Paliogianni |
| Back-end Development | Thanos Poulitsas |
| Account Management | Dioni Tegou |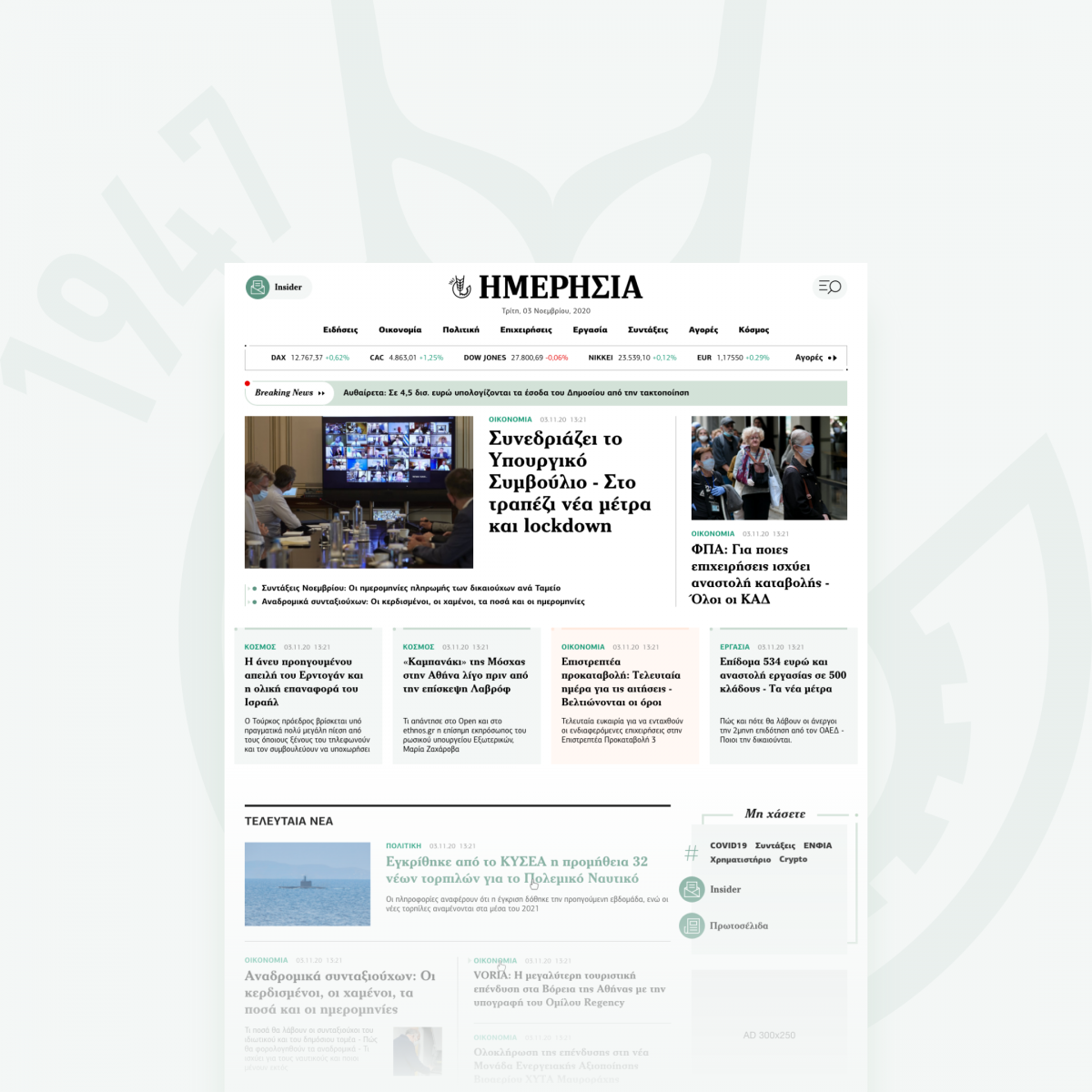 Typography
TYPE YOUR TEXT
PF Centro Sans Pro
PF Cheltenham
Color Palette
HOVER TO EXPLORE ALL COLORS
SWIPE TO EXPLORE ALL COLORS
When financial history meets digital
Our main goal was to create a simple yet modern, print-feeling yet digitally readable, financial portal with focus on bold titles and robust typography.
The color palette is meant to resemble the color of money and its meaning; the one that doesn't fade or decompose easily and it's against counterfeiting, while the news that are related to the Economy section have a linen shade, which is connected to the 'bisque' color introduced with great success by the printed version of The Financial Times back in 1893, to give an eye-catching experience.
Small photos, big titles, variety of news, easy to access stocks prices are just a few of many details combined to make the experience of any businessman/woman, employee, stockholder, unemployed and any user in general a better and easier place to navigate through.
Blazing fast, user-oriented, pixel perfect, SEO-friendly are values always connected to our work, so a visit to imerisia.gr would be self-expalanatory that these are terms bind to this aspiring new project.
Imerisia.gr aims to continue the legend and history of a truly prompt and authoritative medium; and so does its new home.