Sharing is caring
View website
Nea Kriti
Neakriti.gr is the fourth and latest member of the Neakriti Media Group group; the largest news organization in Crete.
Embracing the future of digital news dissemination, Neakriti.gr, a renowned Cretan news portal, has embarked on a journey of transformation. This exciting evolution aims to enhance the user experience, expand content offerings, and foster greater integration within the organization's network of websites and services.
| | |
| --- | --- |
| Release date | |
| Client | Nea Kriti |
| Sector | News |
| | |
| --- | --- |
| UI & UX Design | Despina Alafouzou |
| Front-End Development | Irene Paliogianni |
| Back-End Development | Sofia Tsimtsiou |
| Project Management | Dioni Tegou, Ioanna Papaioannou |
| Account Management | Frida Pavlidou, Nefeli Tolia |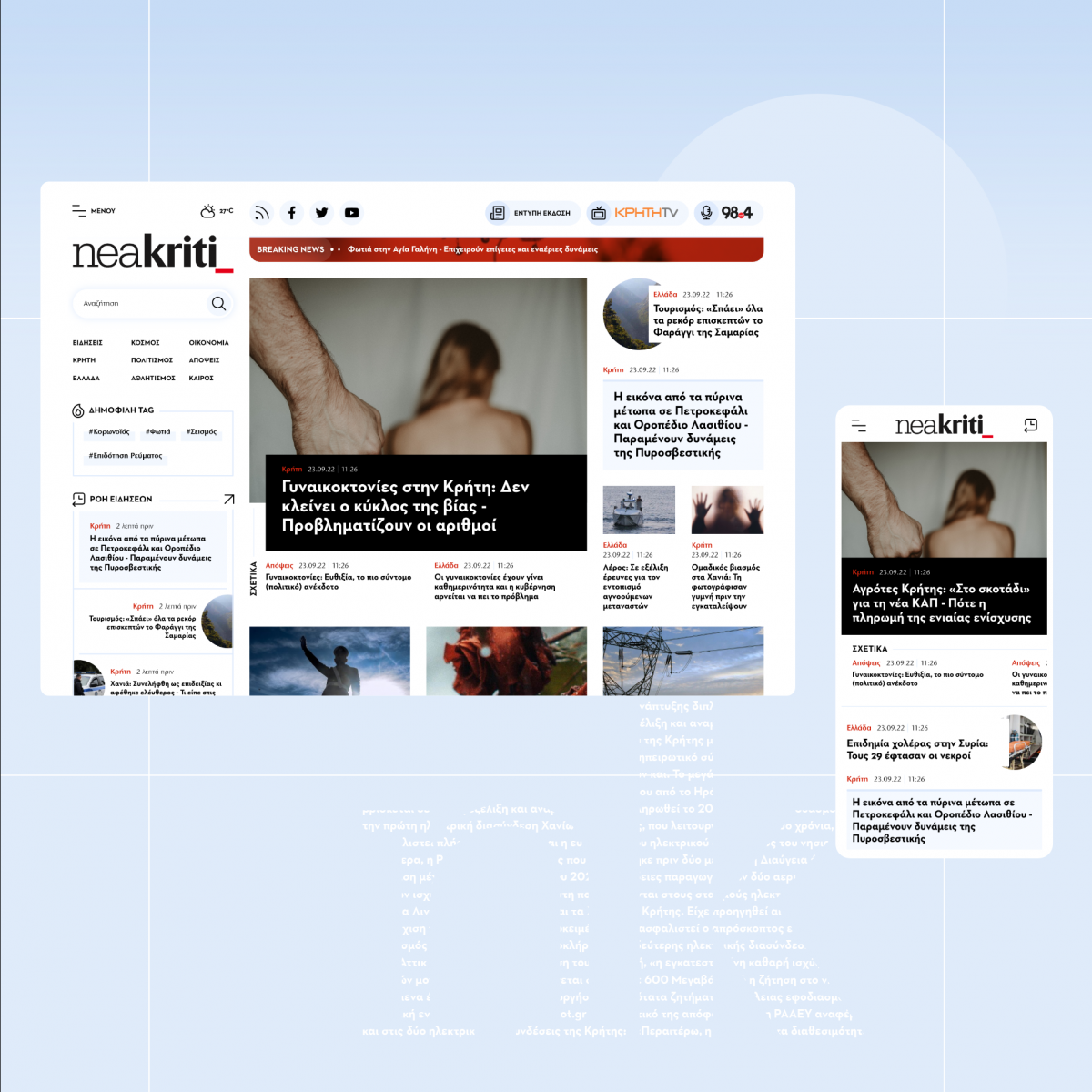 Typography
TYPE YOUR TEXT
Neutraface 2 Text
Stone Sans ITC Hellenic
Color Palette
EXPLORE ALL COLORS
SWIPE TO EXPLORE ALL COLORS
The road to a digital transformation for an enhanced User Experience
Neakriti.gr has undergone a significant transformation to enhance the overall user experience for its loyal readers and esteemed advertisers. The website has been meticulously redesigned and redeveloped on the robust Drupal platform, a decision driven by a commitment to best practices and optimal performance.
The new design features a modern, clean layout that is easy to navigate, with a responsive design that works on all devices.
In addition to the visual enhancements, a rebranding effort was made to reflect the evolution of the news portal and its commitment to staying relevant and engaging in the digital age. The logo proposals are a visual representation of Neakriti.gr's renewed focus on delivering quality content and fostering a strong community for its audience.
The new Neakriti.gr is a testament to the power of Drupal's flexibility and scalability. The platform was chosen for its ability to handle high volumes of content and traffic, its robust security features, and its extensive customization options. This has resulted in a website that is not only visually appealing but also highly functional and user-friendly.
The transformation extends beyond just technical enhancements. The portal now features a variety of new and optimized sections designed to cater to the diverse interests of its audience. Readers can now engage with thought-provoking opinion pieces, listen to captivating podcasts, explore multimedia galleries filled with vibrant images and videos, and stay updated with the latest events. These additions enrich the content landscape of Neakriti.gr, making it a more comprehensive and engaging news source.
The migration of content to the new platform was a critical part of this transformation. This process ensured that the rich archive of news stories, articles, and multimedia content from the old site was seamlessly transferred to the new one. This allows readers to continue to access their favorite content while enjoying the benefits of the new, improved platform.
Moreover, the new website opens up new opportunities for integration with the rest of the websites and services of the Neakriti Media Group. This seamless integration will allow potentially for a more unified user experience across all platforms in the future.
In essence, the redevelopment and redesign of Neakriti.gr represent a significant milestone and a step forward for the news portal. With its enhanced performance, user-friendly design, and enriched content offerings, Neakriti.gr is poised to deliver an unparalleled experience to its audience and advertisers, while also strengthening its position within the Neakriti Media Group ecosystem.