Sharing is caring
View website
Teen Queen
Queen.gr's teen edition addresses all modern aspects of teenhood in the digital era. From style and love to tech, from astrology and gossip to cultural news, this website creates unique content that will keep you up-to-date. The absolute teen magazine re-introduces itself with a totally revamped look.
| | |
| --- | --- |
| Release date | |
| Client | DPG |
| Sector | Fashion, Beauty, News |
| | |
| --- | --- |
| UX / UI Design | Despina Alafouzou |
| Account Management | Frida Pavlidou |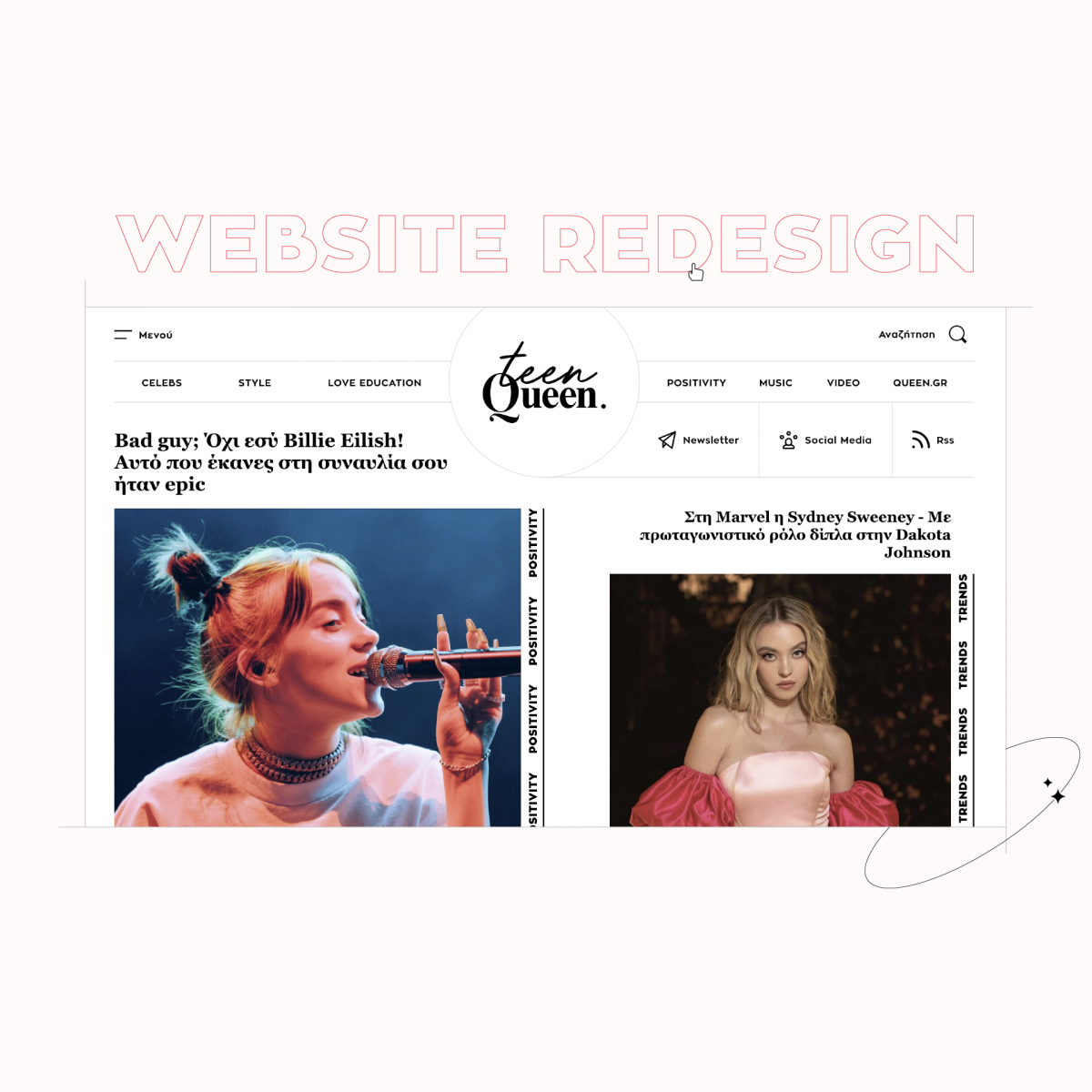 Typography
TYPE YOUR TEXT
Georgia
Zona Pro
Color Palette
EXPLORE ALL COLORS
SWIPE TO EXPLORE ALL COLORS
Revamp Your Reign: The Ultimate Guide to fashion, beauty and more - the teen way
After Queen.gr's redesign, our next step to the medium's growth was the redesign of its teen edition, Teen Queen. Our main aim was to design a fresh and stylish website to capture the full essence of teenhood, according to the new Teen Queen magazine's needs, while maintaining the class of its parent's new identity. With such a demanding and constantly evolving audience, this process required 3 totally different moodboards until it reached its final form to become the new Teen Queen.
The Teen Queen's new logo was based on the aesthetic of Queen.gr logo and, at the same time, is fully adapted to the target audience of the specific medium.
The main colors of the website are black, white, and coral red; each one playing a unique role in the final outcome. The black color symbolizes power and sophistication, while white is synonymous with positivity. Those two create an all-time classic combination that gives enough room for the red to pop out and add an extra flavor. This particular red shade keeps the red color's main characteristics -bold and captivating; always the protagonist of the color palette- while infiltrating a notion of pink to embrace the young, feminine and playful substance of the portal.
The structure and forms of the new Teen Queen are clean with bold and fun details in between, establishing the trend "less is more". Those elements boost the need of the website to be easy to navigate to and fun to spend time on, both in desktop and mobile versions.
Since teen websites have more diversity than those dedicated to other audiences -meaning more audiovisual elements, modern lingo, and full integration of social media trends and aesthetics- we tried to create a digital environment that would exude a sense of freedom and inclusivity.
We created space for new categories and highlighted the already existing ones, we made bigger headlines with trendy fonts, and utilized the colors, movement, and intensity of the multimedia content - all embodied in a super clean layout.
Moreover, we paid extra attention to emphasizing Teen Queen's social media channels, in order to encourage website visitors to become followers and build a strong, interactive, online community.
Teen Queen is now a contemporary website for the young and restless.
* Internally developed by DPG.