Sharing is caring
View website
Efsyn
Efimerida ton Syntakton, a leading Greek cooperative daily newspaper established in 2012, ranks among the top dailies in Greece. Its digital edition stands out in the Greek news media landscape, attracting a vast audience with its team of esteemed journalists and a dedicated base of loyal readers. In the dynamic realm of journalism, this publication has consistently aimed to cater to a broad spectrum of society, seeking independent, multifaceted, and in-depth information.
| | |
| --- | --- |
| Release date | |
| Client | Efsyn |
| Sector | News |
| | |
| --- | --- |
| UI & UX Design | Despina Alafouzou |
| Front-End Development | Irene Paliogianni |
| Back-End Development | Sofia Tsimtsiou |
| Project Management | Ioanna Papaioannou |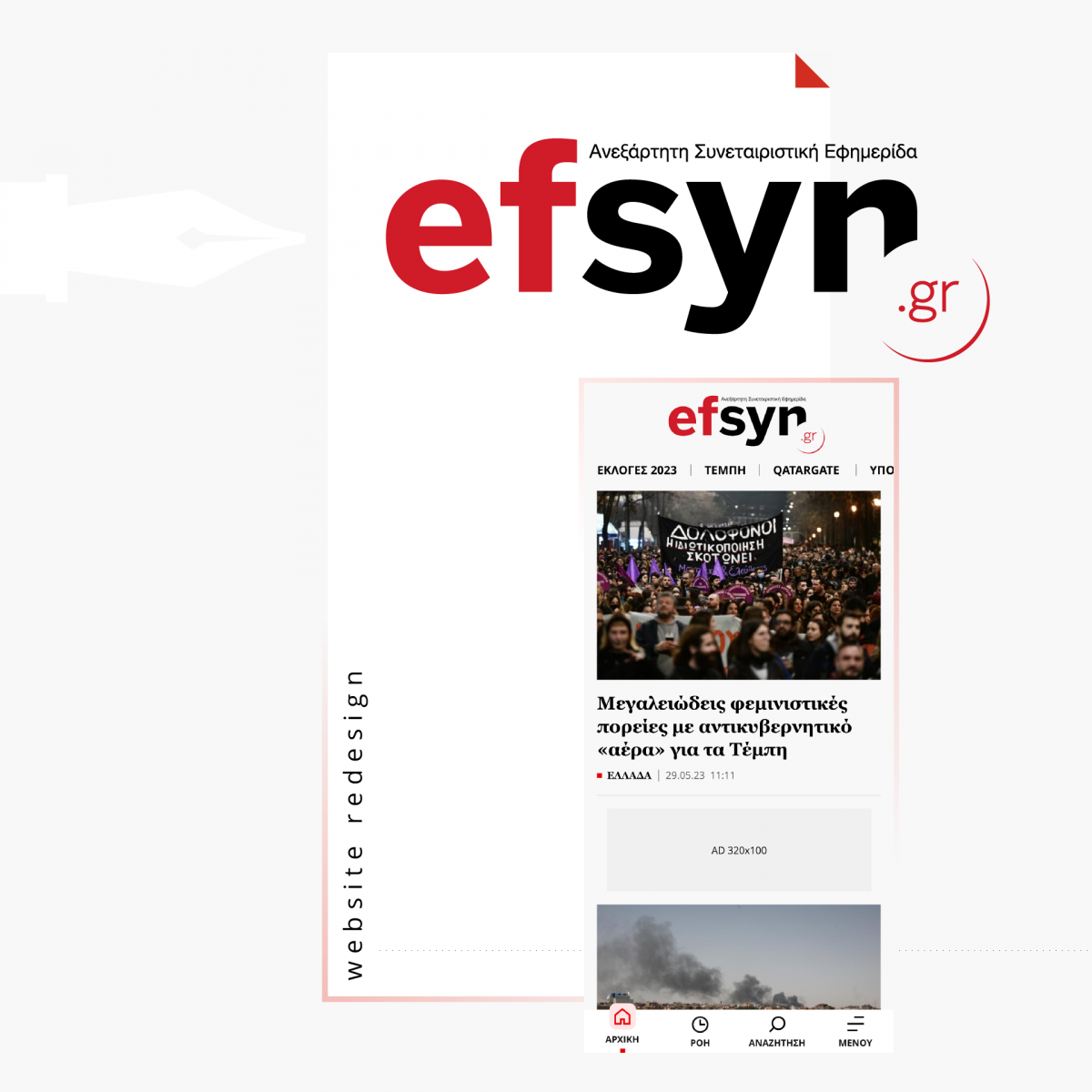 Typography
TYPE YOUR TEXT
Georgia
Open Sans
Roboto
Color Palette
HOVER TO EXPLORE ALL COLORS
SWIPE TO EXPLORE ALL COLORS
A long-lasting collaboration embarking on its exciting next chapter
Over the past seven years, the digital edition of EFSYN has become a formidable competitor to Greece's major news websites, offering daily updates and a rich flow of news spanning from politics to arts.
Four years ago, we began a transformative journey to redesign and redevelop efsyn.gr. Today, after a period marked by strong collaboration and unwavering trust, we proudly unveil our latest efforts. While the core values remain unchanged since day one, the technological advancements have paved the way for a fresh perspective on events.
One of our primary goals was to elevate EFSYN's website from a standard news site to a dynamic news portal. This shift not only modernizes the site's aesthetic but also streamlines users' navigation. Towards this direction new thematics were introduced, ensuring a richer content palette, while also affecting its navigation menu for clarity and ease of use, allowing readers to dive into their topics of interest effortlessly.
We strategically emphasized op-eds, breaking news, video-inclusive articles, live reporting and podcasts. This focus ensures readers are consistently presented with impactful content in a timely manner. To further enhance content delivery, we integrated various presentation technologies, offering readers a more immersive experience.
One of our pivotal goals was to seamlessly integrate EFSYN's storied print history through segments that pay homage to the print edition, creating a harmonious blend of old and new.
Central to our redevelopment efforts was the transition to Drupal 9. This state-of-the-art CMS not only provides our editorial team with a modern, intuitive platform but also significantly enriches the browsing experience for our valued readers.
Beyond aesthetics and functionality, our strategies have been geared towards boosting site traffic and fostering greater user interactivity. In today's multi-device world, it's crucial to ensure content is accessible and optimized across all platforms. Whether on desktop, mobile, or tablet, EFSYN's readers now enjoy a seamless browsing experience.
In essence, while we cherish the original mission we were assigned with, we're excited to present a rejuvenated EFSYN, poised to meet the demands of today's digital landscape.