Sharing is caring
View website
Gine Proedros
A few decades after its printed version in Ethnosport add-on, the most popular Fantasy football game in Greece goes digital.
| | |
| --- | --- |
| Release date | |
| Client | Dimera |
| Sector | Sports |
| | |
| --- | --- |
| UX | Despina Alafouzou, Thanos Poulitsas |
| UI Design | Despina Alafouzou |
| Front-end Development | Irene Paliogianni, Aris Vomviras |
| Back-end Development | Thanos Poulitsas, Sofia Tsimtsiou |
| Account Management | Frida Pavlidou |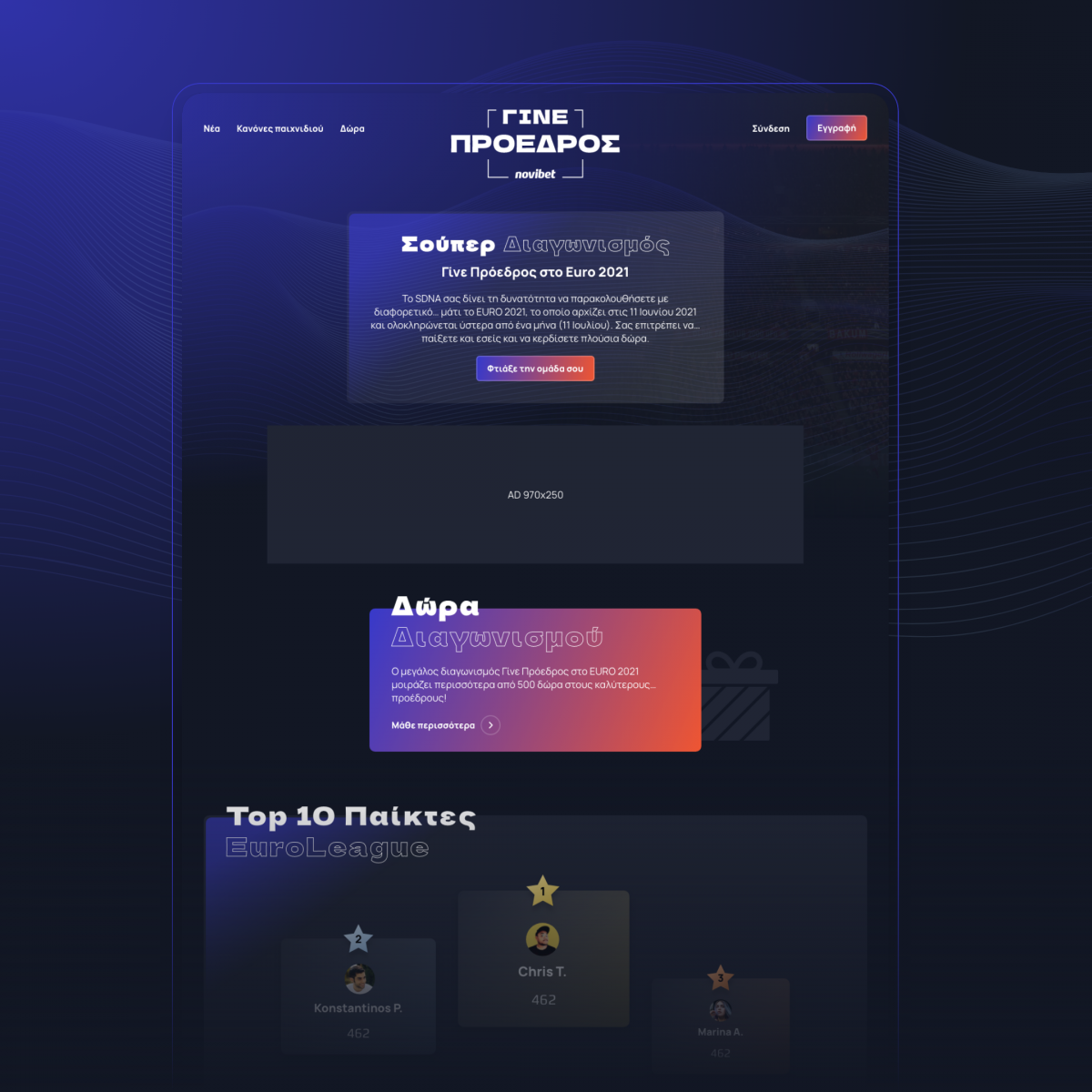 Typography
TYPE YOUR TEXT
Dela Gothic One
Manrope
Open Sans
Play
Color Palette
HOVER TO EXPLORE ALL COLORS
SWIPE TO EXPLORE ALL COLORS
A historical Fantasy game turns digital
Almost every football fan has mumbled or at least thought -even just for once- 'if the team was mine I would have done it better'. That's what this contest is all about.
All users have the chance to sign up and create their own team choosing among a range of players of any -participating in each league- team in any position. Given a specific budget, every participant can make their mind calculations, select their dream team players and place them in the formation of their preference. After each matchday all players that have actually participated in the league get a score according to their performance. At the end of the season the leading teams win amazing prizes.
It's definitely not an easy task to build next generation football managers, even more when it comes to a major transition of a much loved game from newspaper to the web. Futuristic and dynamic aesthetics, dark tones and bold fonts along with an easy-to-use dashboard and self-explanatory game area; all compose a friendly environment for the contestant to create and play with their team, come back and alter their initial choices, check their ranking position in the leaderboard.
Made to scale and evolve from a contest of Euro 2021 to any league, for even more team sports, Gine Proedros is waiting for everyone to give their managerial skills a try . Let the games begin!